If you find that our videos are buffering on a certain device or at a specific location, try changing the playback quality by clicking the gear icon at the lower right corner of the player.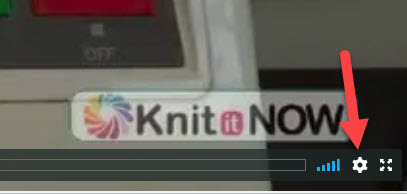 We've recorded our videos at different qualities over the years. The player we use is set to "auto". If you are experiencing problems, try using the gear and change the setting.
Everyone's bandwidth, computer processing speed are different.
The following table shows the minimum speeds required for various playback qualitites
| | |
| --- | --- |
| Quality | Required Minimum Bandwidth |
| 360p | 1 Mbps |
| 720p | 3 Mbps |
| 1080p | 7 Mbps |
| 2K | 12 Mbps |
| 4K & up | 22 Mbps |
When a video plays in lower than expected quality, it's likely because the viewer's Internet speed (bandwidth) or computer processing speed cannot support higher quality playback. Viewers can manually force a particular quality by selecting the gear icon in the lower right corner of the player. (This may result in frequent buffering if the bandwidth does not meet the required minimum outlined above.)